Links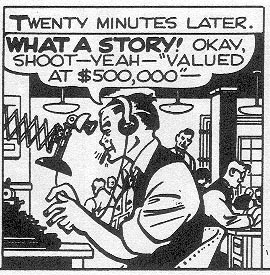 Dick Tracy e-group This is a superb e-mail discussion list moderated by Beau Kaelin. Talk about the Dick Tracy rpg or Dick Tracy in general. I highly recommend this group!
Uncle Bear This is one of my favorite places on the internet! Uncle Bear has everything a gamer or sci-fi fan could ever want, including an exhaustive catalog of links to hundreds of free roleplaying games.
Hephaestus' Forge This is another incredible place to find tons of free roleplaying games. Between this site and Uncle Bear, you'll be able to find a game to suit your tastes!
Beau's Dick Tracy PageSimply put, this is the best, most informative Dick Tracy site on the internet!! From the strips to the 1990 movie, you're bound to spend hours discovering interesting things about DT! I couldn't recommend this site more! Go there now!!